Executive Chef | Steven Ariel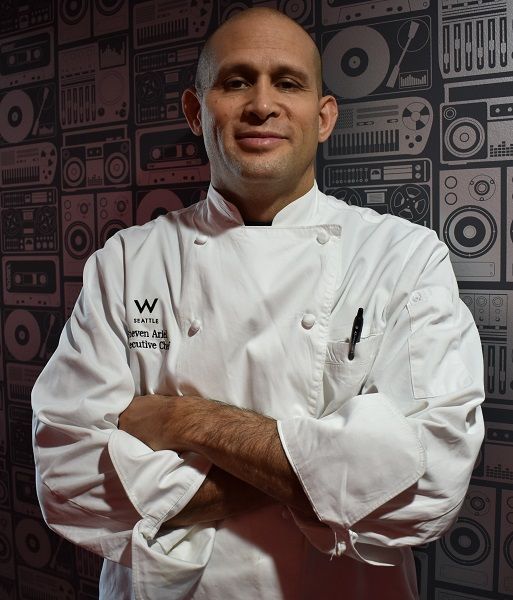 TRACE Executive Chef Steven Ariel shares a fine dining mind and a farmer's heart. Growing up on a farm on the Big Island of Hawaii, Steven developed an appreciation for simple, fresh ingredients, and that reverence lies at the heart of his cooking philosophy, which seeks to celebrate ingredients at their peak. His straightforward approach combines with global influences to present TRACE's multifaceted menu, having trained in Hawaii, Japan and Thailand.
Upon moving to the mainland, Steven worked in some of the Pacific Northwest's top kitchens, including Canlis, Café Juanita and Luc, and he brings that experience to TRACE's helm. Still, he's just at home on a farm as he is in a kitchen, and for the past decade Steven has developed a sustainable, hydroponic farm in Bothell, growing an array of microgreens, baby vegetables and other produce that he supplies to TRACE and other local restaurants. He brings the passion he cultivates on the farm to the menu at TRACE, where he showcases local ingredients with an unabashed flair for flavor.
TRACE Supervisor | Jeff Crooks
TRACE supervisor Jeff Crooks finds a story in each sip and seeks to share those stories with his guests. His introduction to bartending started in Chicago, before moving to Los Angeles to study screenwriting and picking up a few mixology tricks along the way. He backed bar at the W upon moving to Seattle and discovered a newfound passion in the world of wine, earning his Level 1 sommelier certification. While versed in the classics, Jeff seeks to turn expectation on its head, opting for unanticipated food & wine pairings, like Sauvignon Blanc with Duck Confit Risotto, and fresh takes on classic cocktails, like turning the French 75 into the Sounders 74 in celebration of Seattle's finest football club. As TRACE's new supervisor and beverage expert, Jeff will help you find the perfect pairing to your night, whether it starts with bourbon, Burgundy or bubbly.